PEPPER JOBS XtendTouch Pro

The world's first 15.6-inch 4K AMOLED portable monitor, with true-to-life colors, extreme blacks, and stunning details that let you see and work better.


Tired of viewing the dim screen and poor color quality on your LCD display? You deserve a better monitor. A far better OLED monitor. OLED (Organic Light Emitting Diode) displays are better than LCDs…they are brighter, more efficient, have better contrast and refresh rates, and are thinner in size.
However, the OLED monitors currently on the market are either too expensive or unsuitable for on-the-go use.



There are over 8.3 million self-lit pixels in the XtendTouch Pro 4K AMOLED display, each emits their own light independently and can be completely turned off. Therefore, the XtendTouch Pro enables everyone to enjoy an unparalleled viewing experience, with vivid colors, deep black, stunning images, and incredible details.




Wider color gamut
XtendTouch Pro exceeds industry standards for color reproduction, achieving over 100% DCI-P3 color gamut coverage.




Truly-precise color accuracy, exceptional contrast, and rapid response


High quality displays are of vital importance to many professionals like video editors, photographers, designers, colorists, and anyone chasing superior quality to see the true colors, contrast, and details of their content. XtendTouch Pro is your creative studio on-the-go that gives you everything you need to boost creativity and productivity.
With an advanced stylus included, drawing, image retouching, and note-taking have never been so easy. Intuitive, precise, and 4096-pressure-sensitive, it is magical with a Microsoft-certified chip and is always ready when inspiration strikes.
Wide Compatiblity & Smart Connectivty
XtendTouch Pro is equipped with multiple ports that allow connection to virtually any device. Whether you are using the display with a laptop, smartphone, or even Switch for gaming, XtendTouch Pro meets all your daily demands.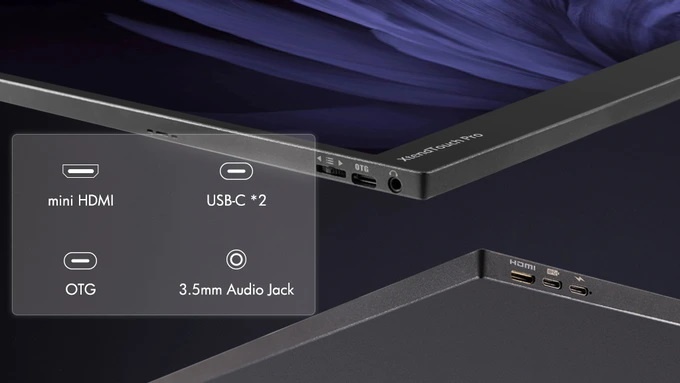 Reliable power supply system
The cutting-edge power supply system ensures stable operation at high-brightness. In contrast, typical monitors will turn dark without sufficient power or can't reach high-brightness at all.



Foldable stand & Magnetic cover for various angles & uses
Every XtendTouch Pro comes with a foldable stand and magnetic cover that can unlock endless viewing possibilities. The stand is designed with pros in mind and is completely adjustable, allowing your XtendTouch Pro to fit seamlessly into any work environment. The magnetic cover provides great protection while using in both landscape and portrait mode (auto-rotation via gyroscope).
PD Passthrough Charging
This function enables you to charge your devices via XtendTouch Pro itself, to keep you powered up at all times and eliminates the need to carry extra chargers. Set up is hassle-free and plug & play, so you get more done quickly.
Hardware Low Blue Light Filter Technology
The AMOLED display panel of the XtendTouch Pro has a native hardware blue light filter that shifts the frequencies of the harmful blue light spectrum to the beneficial spectrum and thus effectively reducing damage to the eye while maintaining its picture quality. It's with up to 70% less blue light emission than an LCD monitor.

Dual Stereo Speakers
Typical portable monitors always seem to have poor sound quality. We armed XtendTouch Pro with dual stereo speakers that deliver outstanding audio and dynamic bass for crystal clear sound for any application.
Picture in picture
When connecting 2 devices to XtendTouch at the same time, you can still view both of them. Watch a movie while making a video call, or take notes while having a Zoom online meeting, it's up to you.
XtendTouch Pro perfectly combines outstanding performance and an affordable price, making it the ideal portable monitor for any on-the-go creative, student, or digital nomad.